---
Jones & Associates was founded by David (Herstle) Jones III.
When Herstle founded the company, his goal was to put together a team that would be passionate about helping clients with comprehensive retirement planning, including customized solutions that meet individuals' investment, insurance, tax and legal needs.
And, from day one, the process for helping individuals' has been centered around one simple thing: An open and transparent advisory process to develop creative solutions that help you achieve true financial independence.
One of our cornerstones is designing income plans that help you maximize your Social Security benefits while avoiding paying unnecessary taxes on your income and estate. We're driven to give individuals' with the confidence that only comes from knowing someone they can trust is overseeing and coordinating their finances as carefully and efficiently as possible.
Retirement is more complex and multifaceted than ever, and that's why the Jones and Associates team works together to ensure clients' needs are addressed with the most holistic, purposeful and innovative strategies possible.
Though Herstle lost a courageous battle with cancer in 2022, his passion and vision live on in the work Jones and Associates does each and every day. With a team of estate-planning attorneys, accountants, investment advisors and insurance specialists, you can rest assured that Jones and Associates has all your retirement needs covered!
Jones Cares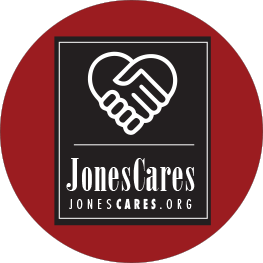 Jones Cares was our community outreach program made possible through our partnership with Gradient Gives Back Foundation, a non-profit organization. We invited Americans who had fallen on hard times to connect with us for an opportunity to be awarded twelve months of housing payments.